Lotus Light Temple and Lotus Light Monastery
*Lotus Light Temple   Address: 347 E Hastings St., Vancouver    http://temple.vllcs.org/
* Lotus Light Monastery Address: 6571 No 6 Rd, Richmond    http://temple.vllcs.org/about-us/about-llm/
2016  May Activities Schedule 
Hosted By Vajra Master Lian Tzi   https://www.facebook.com/liantzi.shi 
Spiritual Consultation: Master Lian Tzi uses her spiritual power from Taoism's Golden Mother to guide individuals in dealing with health, business, family life, or various life problems. Donations are welcomed. Please call for an appointment.
Consultation Schedule:  Saturdays & Sundays 1:00-2:00pm (call for appointment & location)
Weekly Group Practice/Ceremony Schedule:  Donations are welcomed!
Saturdays time: 10:30am at Lotus Light Temple in Vancouver
Tuesday evenings: 7pm; Sundays : 10:30am at Lotus Light Monastery in Richmond
Lunch will be offered on Saturdays and Sundays
All donations are payable to Lotus Light Charity Society. We also accept credit cards (Master / Visa).
Mailing address:  #200-357 East Hastings Street, Vancouver, B.C. Canada V6A 1P3   
May 2016
May 8th Sun. at Monastery in Richmond,   and,   May 14th  Sat. at Temple in Vancouver
Time: 10:30am – 12:30pm       
2 Celebrations: Bathing the Buddha Ritual & Empowerment, 
an worldwide event in Buddhism (2天浴佛慶典)
Intro: Commemorating Sakyamuni Buddha's Birthday, the great Founder of Buddhism. The ritual is conducted worldwide, it is an important event. On this day at the monastery, we will recite "The Merit of Bathing Sutra" and sing the melodic song of "Bathing Buddha Verse". Everyone will receive the great blessing and purification from the Holy Spirit of this Great One.
http://temple.vllcs.org/event/bathing-the-buddha-ritual-empowerment/
http://temple.vllcs.org/event/2nd-celebration-bathing-the-buddha-ritual/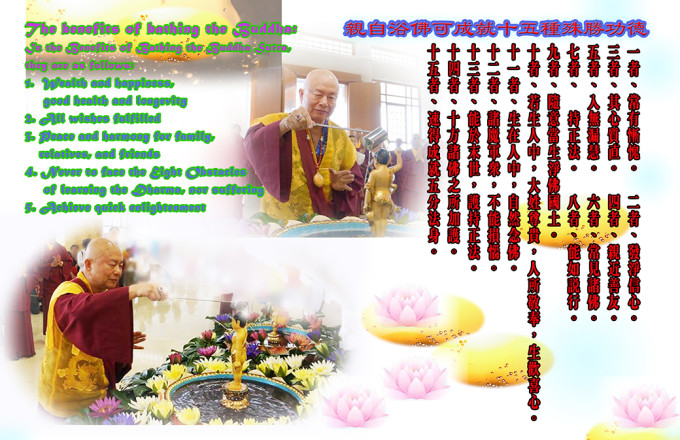 If you have any enquiries or if you need more information with our activities, please give us a call! Tel:(604) 685-5548
Mailing Address: 200-357 E Hastings St., Vancouver, BC Canada V6A 1P3