Lotus Light Charity Toy Drive Giving Refugee and Impoverished Families with Children COMFORT & HOPE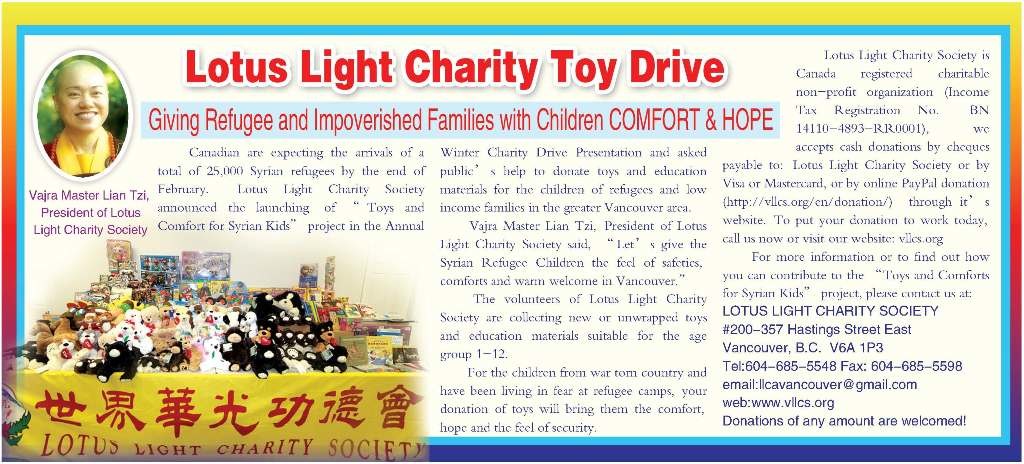 Canadian are expecting the arrivals of a total of 25,000 Syrian refugees by the end of February. Lotus Light Charity Society announced the launching of "Toys and Comfort for Syrian Kids" project in the Annual Winter Charity Drive Presentation and asked public's help to donate toys and education materials for the children of refugees and low income families in the greater Vancouver area.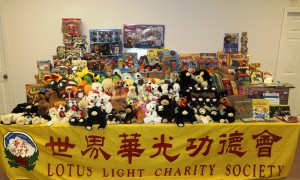 Vajra Master Lian Tzi, President of Lotus Light Charity Society said, "Let's give the Syrian Refugee Children the feel of safeties, comforts and warm welcome in Vancouver."
The volunteers of Lotus Light Charity Society are collecting new or unwrapped toys and education materials suitable for the age group 1-12. For the children from war torn country and have been living in fear at refugee camps, your donation of toys will bring them the comfort, hope and the feel of security.
Lotus Light Charity Society is Canada registered charitable non-profit organization (Income Tax Registration No. BN 14110-4893-RR0001), we accepts cash donations by cheques payable to: Lotus Light Charity Society or by Visa or Mastercard, or by online PayPal donation (http://vllcs.org/en/donation/) through it's website. To put your donation to work today, call us now or visit our website: vllcs.org
For more information or to find out how you can contribute to the "Toys and Comforts for Syrian Kids" project, please contact us at:
LOTUS LIGHT CHARITY SOCIETY
#200-357 Hastings Street East
Vancouver, B.C. V6A 1P3
Tel: 604-685-5548 Fax: 604-685-5598
email:llcsvancouver_at_gmail.com, web:www.vllcs.org
Donations of any amount are welcomed!