Lotus Light Temple and Lotus Light Charity Society celebrate 2015 Mother's Day at Lotus Light Monastery
Mother's Day is a biggest event and it is also the most celebrated event in the world; it is because the "Power" from Mother's Love".
This year Lotus Light Temple and Lotus Light Charity Society, Vancouver had hosted a Mother's Day celebration luncheon function event at Lotus Light Monastery on May 9, 2015.  Reverends, teacher assistance, dharma brothers and sisters, families and friends had come to celebrate Mother's Day with Master Lian Tzi.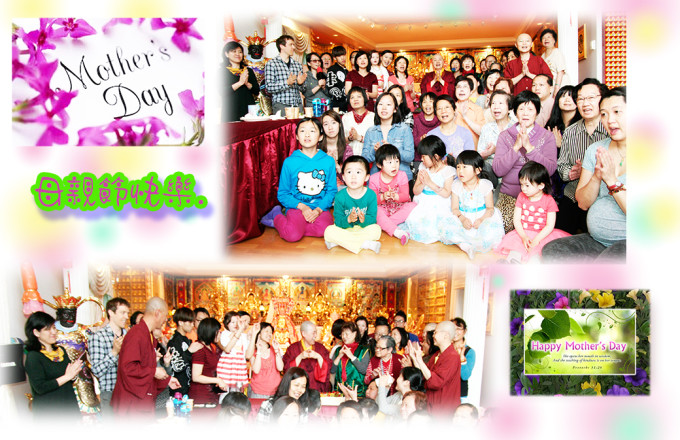 It is a known fact that every life in this world relies on the great love and endless care from the great mother to grow, to blossom and to fruition.  Mother is the root to all lives! Her love and wisdom, tolerance and forgiveness, and the great heart of compassion bring peace and harmony to all. Her endless love and caring heart, the unselfish compassion influence the whole world.  
With great respect, Lotus Light Temple and Monastery had asked the presiding master, Vajra Master Lian Tzi to conduct Namo Golden Mother Fire Homa Ceremony on Mother's Day for all of us because everyone would like to show our deepest, utmost respect and appreciation to the most compassionate Heavenly Mother, the powerful Namo Golden Mother of the Primordial Pond of the West. This heavenly Golden Mother has bestowed boundless of blessings and also has been endlessly taken great care to all her children and to sentient beings whom are believing in her, and to whom are honoring her. Golden Mother has processed fully with the most supreme spiritual power; countless of stories and miracles had been told by people from all over  everyday around the globe .  Her un-excelled compassion gives salvation to whom are suffering.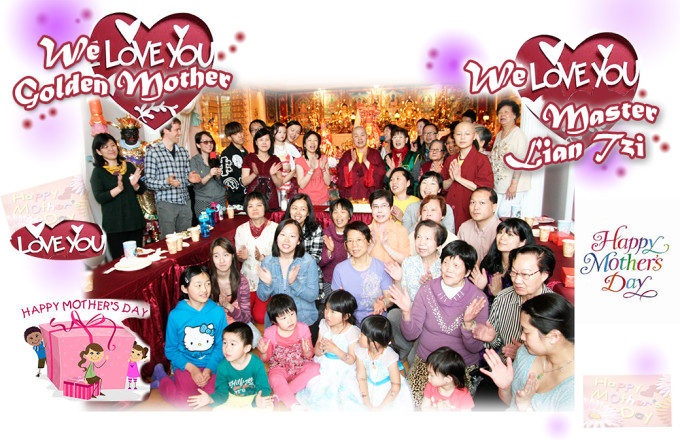 Here at Lotus Light Temple and Lotus Light Monastery, Mother's Day is a very special day to all of us, it is because the presiding master, Master Lian Tzi, has a very special relationship with Golden Mother. Grand Master, the Living Buddha Lian Sheng had revealed Master Lian Tzi's original root when she was ordained back in 1995. Grand Master had announced that Master Lian Tzi is an entity of Golden Mother. Golden Mother had also told Grand Master that Master Lian Tzi will be a very good Vajra Master who will attain great dharma achievement in the future.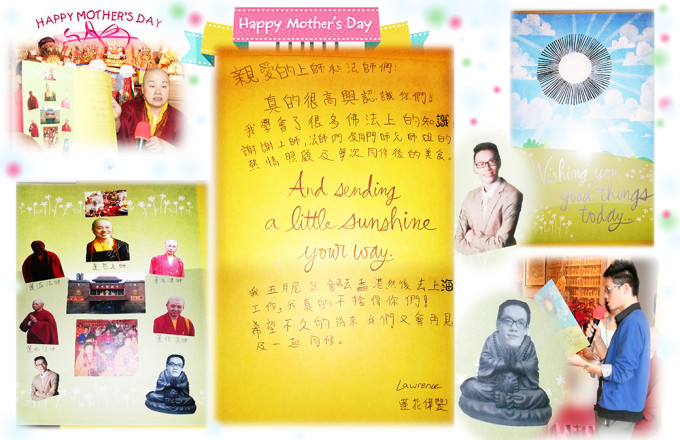 In one of Grand Master's talks, he had said,"There is nothing in life can be more meaningful and/or more important than having the attainment in Buddhahood and also be able to give and to benefit the sentient beings."  Master Lian Tzi is very determined  and very devoted in her practice to follow Grand Master's teaching. Master had already conducted thousands of ceremonies and fire homa practices to strengthen her own spiritual growth and has already attain the indestructible spiritual connection with the Root Guru Living Buddha Lian Sheng, Padmakumara, also with her own personal deity and dharma protectors.  Her dharma power and the blessings from her ceremonies had benefited sentient beings all around the world (in the human world and the netherworld as well). Many participants and overseas registrants' wishes and dreams were fulfilled.  Due to Master Lian Tzi's compassion and she is the entity of Golden Mother, therefore, dharma brothers and sisters, people who are young or old, have often addressed Master Lian Tzi as a "Mother".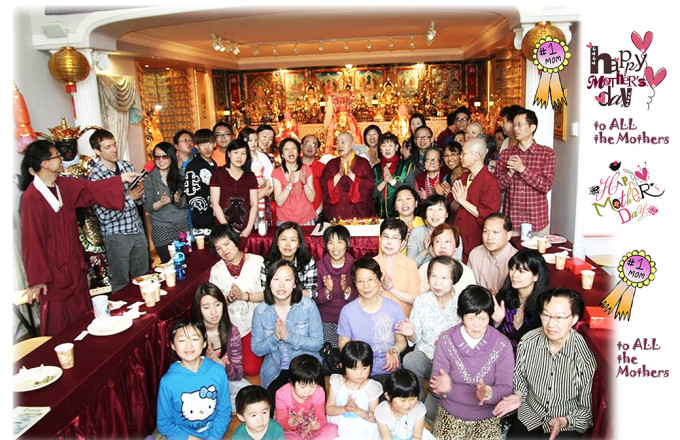 People in all ages, with different genders, status and backgrounds love her and respect her.  It is because she is a caring master who is able to give hopes and directions to the people when and if they needed them most. She is a guiding star and has great skill . Master Lian Tzi's dharma discourses are full with wisdom and her delivery are appreciated and enjoyed by all listeners and readers.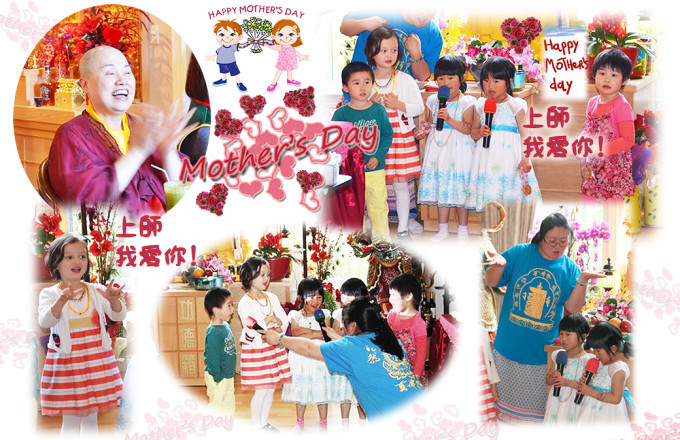 Through Master Lian Tzi Facebook, dharma brothers and sisters around the world are able to receive her spiritual teachings, advices and her deep insights and knowledge in Buddhism from her own experiences.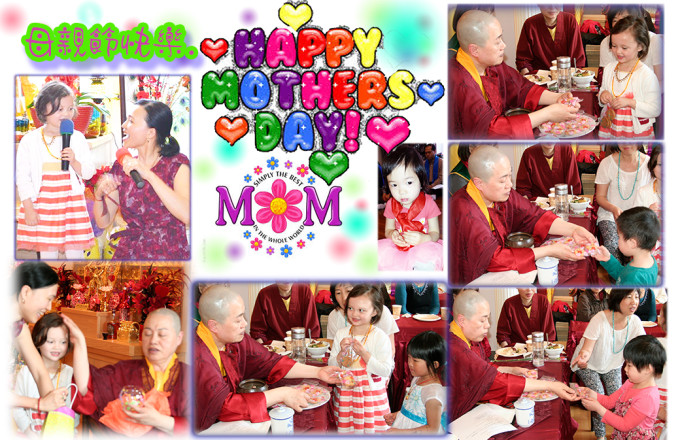 You can read and/or listen to her dharma teachings in the following links 
Today, Master Lian Tzi has  14 books and 2 essays published and circulated around the world.   A new dharma discourse book called, "Golden Mother's the Great Wisdom and Stability Repentance Sutra", will be published in June, 2015.
Her books are listed in this link: http://temple.vllcs.org/about-us/vajra-master-lian-tzi/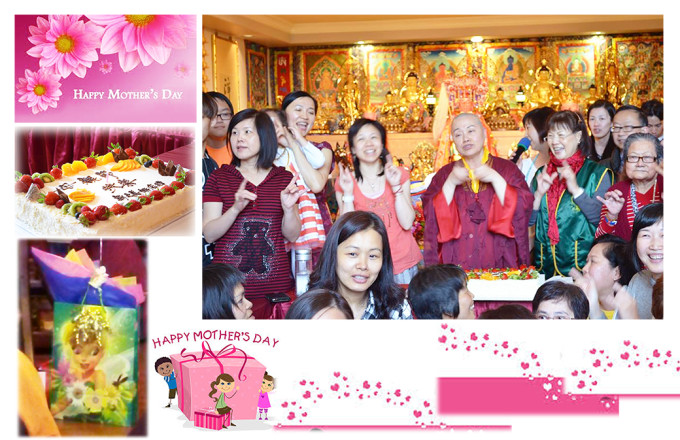 Master Lian Tzi once said in her dharma talk, "If you want to be loved, and if you want to have great love,  you cannot be selfish!  Everyone loves Buddha, love Grand Master! It is because they are not selfish! They are always willing to help people, unconditionally and willingly without themselves!  As a Buddhist, you love your family and you should also care for people whom you do not know or whom will never know that you have help them as well!"  
A mother often plays different roles and carry many responsibilities. Vajra Master Lian Tzi is shouldering four very important presidential positions in the organization of the  True Buddha School. One of which is Lotus Light Charity Society, Vancouver. She has been given her guidance and supervision, contributions and supports to International Lotus Light Charity Society for more than 20 years. From 1993-2007, she had  spread her compassion broad and wide, Master was the president of the International Lotus Light Charity Society, with 91 branches currently active around the world. The charity's mandate is education, medical assistance, social assistance, cultural awareness and emergency disaster relief.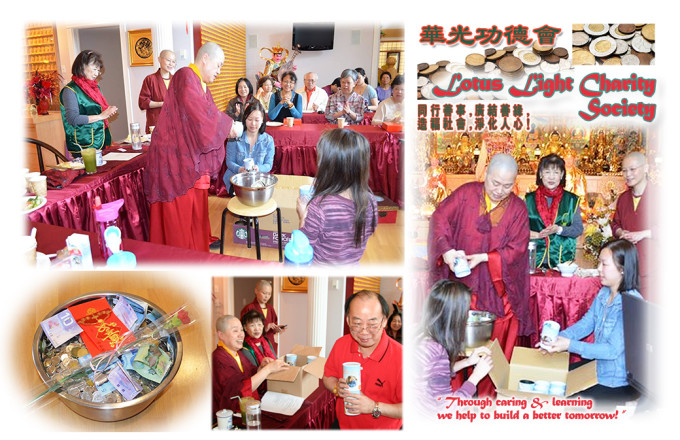 Our Charity motto is, "Through caring and learning, we can help to build a better tomorrow". Our society has been following  the teachings from Buddhas, humanity and compassion must be conducted to provide help and assistance to people whom are needed.  On Mother's Day Celebration Event, our society members has made a request to have Master Lian Tzi to conduct the "Opening Donation Cans Ceremony". The sounds of the tumbling coins rolling out into the bucket had brought lots of joy and laughter and Master Lian Tzi had handed-out more donation cans to our members and encouraged everyone to keep on giving!  
The Mother's Day Celebration Event at Lotus Light Monastery is all about "honoring and appreciation", "giving and sharing"! All the mothers, fathers, children and grandchildren enjoy themselves, everyone have a great memory and an enjoyable day!  Mothers' Love is truly powerful!